Consistent, transparent processes from top floor to shop floor
The SAP Manufacturing Suite connects manufacturing and business processes and connects the shop floor to the ERP system. From the individual machine sensors to scanners and feedback terminals, the entire production is networked with one another and transparently and consistently depicts the manufacturing processes from order approval to completion - without media breaks in a central system.
More productivity and effectiveness through IIoT
All data on orders, material, machine and worker efficiency, quality, down to the individual component are automatically recorded and are available in real time. Based on this data, standardized and industry-relevant KPIs provide insights into the overall effectiveness of production and systems at any time - globally and broken down down to the individual machine and individual order.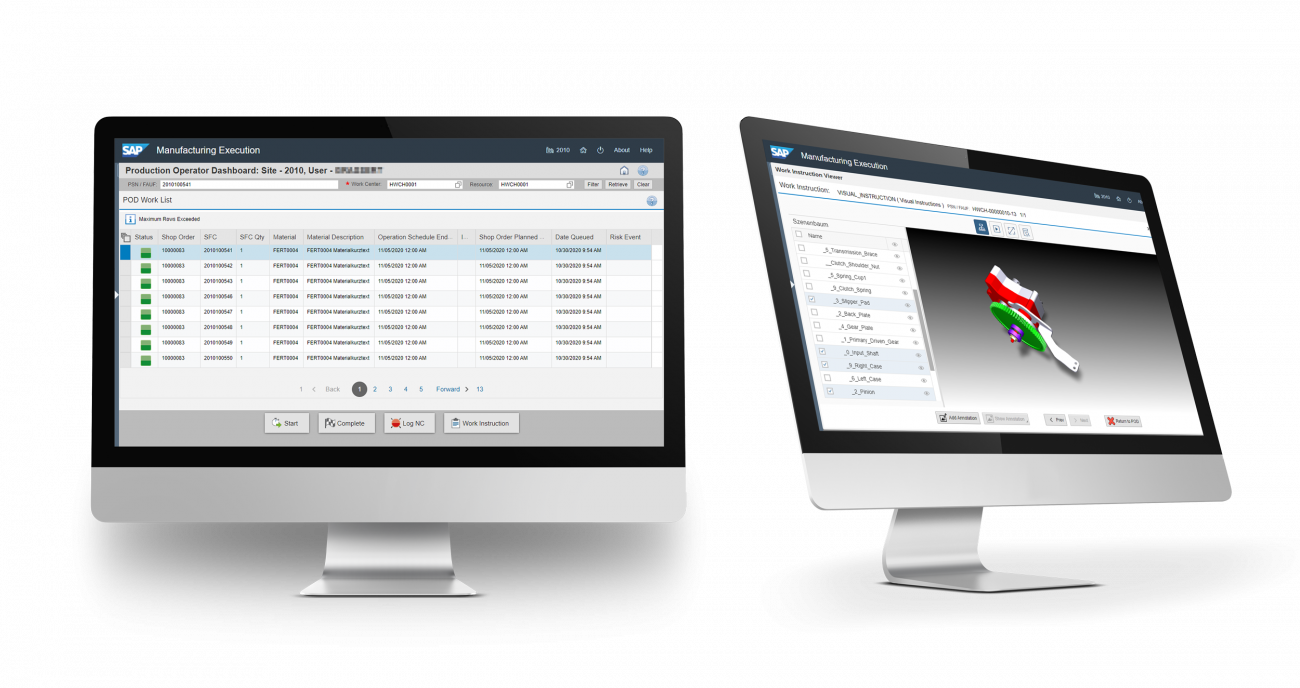 SAP Manufacturing Suite Components
SAP Manufacturing Integration and Intelligence (MII)
Networks the shop floor with the top floor

Monitoring and analysis of production performance

Monitoring the KPIs

Energy monitoring and analysis

Overall plant efficiency
SAP Manufacturing Execution (MES)
Production control system: central handling of manufacturing processes

Centralized processes on configurable Production Operator Dashboards (PODs)

Automatically records data down to the individual component

Traceability of production data down to the individual item
SAP Plant Connectivity
Speaks the language of all machines and translates it into "SAP language"

Observation of sensor data

Reporting of deviations in real time
Central control and monitoring of production

More efficient use of workers, materials and machines and more productive processes

Reduction of rejects and defective productions and complete product traceability

Real-time monitoring and analysis of all relevant information about production based on KPIs and sensor data